ColourMax Annual Flower Seed MIxtures
ColourMax Annual Flower Seed Mixtures
ColourMax Annual Flower Seed is a range of easy to establish, annual flower seed mixtures. Using flower species from around the world, they are formulated to give a stunning floral display throughout the growing season. ColourMax Flower Seed mixtures are composed of 100% pure flower seed to give maximum floral impact. A range of different mixtures are available including popular species such as Cosmos, Californian Poppy, Cornflower, Zinnia and many more. Ideal for use in urban spaces such as parks, gardens, roadside and roundabout flower beds.
ColourMax Annual Flower Seeds are suitable to be sown from March - May.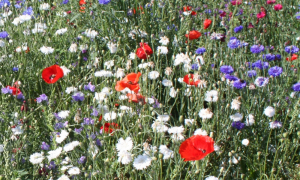 The perfect mixture to show your national pride in the year of the centenary of the First World War and England going to the World Cup! A blend of red, white and blue flowering species to create the ultimate patriotic display!
More Info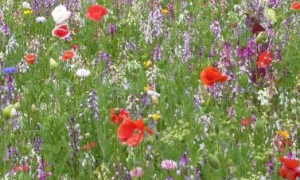 Our most popular mixture. A bright and vibrant mixture of annual species. Formulated from a blend of red, pink, white, blue, purple, orange and yellow flowers. Includes cornflower, cosmos, Californian poppy and many more.
More Info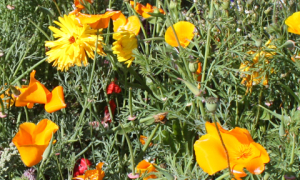 A warm mixture of orange, yellow and red shades to brighten up any area. Formulated from annual flower species from around the world, including Nigella, Poppy, Cosmos, Zinnia, Californian Poppy, Tickseed, Chrysanthemum, Marigold and many more.
More Info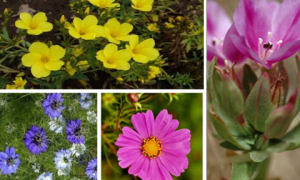 The Universal Bloom mixture contains both annual and biennial flower species. The mixture can be sown in either the spring for summer flowering or in the autumn for early summer flowering the following spring. A mixture of bright colours composed from 24 different species.
More Info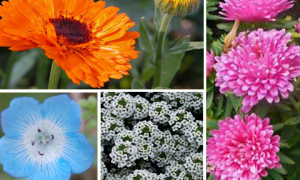 A selection of low growing annual flower varieties, ideal for use along roadsides where it is important no to obscure visibility. Also ideal for flower beds and borders in smaller gardens. Contains a mixture of bright colour from 18 different annual flower species.
More Info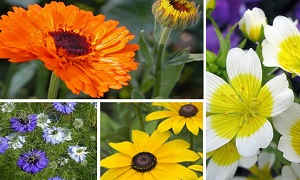 A mixture designed to encourage butterflies, bees, birds and possibly more! This mixture creates a habitat for pollinating insects and provides a food source for birds.
More Info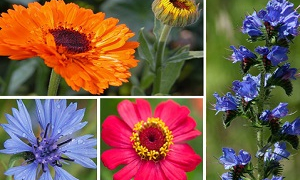 A mixture designed to produce maximum nectar for bees. Containing only species found on the RHS Perfect for Pollinators list.

More Info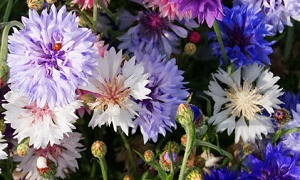 This mixture is designed to create a bold display of flowers whilst also providing a source of food for pollinators. This mixture can be sown in the Autumn or Spring.
More Info