All Purpose Mixture 100% Wildflower Seeds
All Purpose Mixture 100% Wildflower Seeds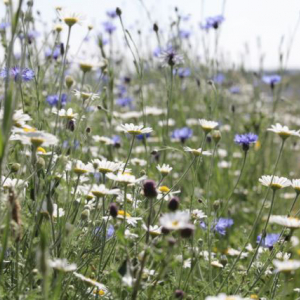 A popular choice if you want colour quickly but also a long lasting meadow. 30% of this mixture is made up of the five species in our cornfield annuals mixture providing a bold flowering in the first year. 70% perennial composition ensures a long lasting meadow.
- Sow in the Spring or the Autumn
- Flowers from June to September
- Mixture of annual and perennial species
- Bright showing in the first year
- Sow at 3g per metre square
Contains: Black Medick, Bulbous Buttercup, Red Campion, White Campion, Night-Flowering Catchfly, Corn Chamomile, Ragged Robin, Corn Marigold, Corncockle, Cornflower, Cowslip, Field Forget-Me-Not, Foxglove, Common Knapweed, Greater Knapweed, Lady's Bedstraw, Musk Mallow, Oxeye Daisy, Hoary Plantain, Field Poppy, Salad Burnet, Selfheal, Common Sorrel, Common StJohn's-Wort, Wild Carrot, Yarrow.
Remember that at GrassSeeds.com, all grass seed varieties in our mixtures are trialled and recommended by the Sports Turf Research Institute. We do not sell poor quality or untested grass seed...buy with confidence from licensed seed merchants, registered with the Department for the Environment, Food and Rural Affairs.