Red, White and Blue Mixture 100% Wildflower Seeds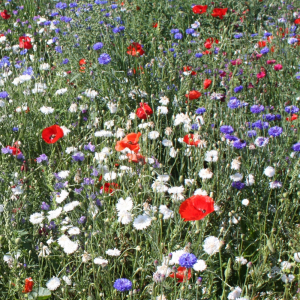 The perfect mixture to show your national pride in the year of the centenary of the First World War and England going to the World Cup! A blend of red, white and blue flowering species to create the ultimate patriotic display!
- Sow from the beginning of March
- Very quick establishment and flowering
- Flowers through until the end of September
- Contains a mixture of annual wildflowers and cultivated specie
- Sow at 5g per metre square
Contains: Common Poppy, Californian Poppy, Red Strawflower, Flax, Chinese Aster, Salvia Red, Red Zinnia, White Alyssum, White Cosmos, Gypsophylia, White Strawflower, White Mallow, Larkspur, White Candytuft, White Zinnia, Violet Alyssum, Dwarf Morning Glory, Borage, Swan River Daisy, Dwarf Double Cornflower, Lupin, Love-In-A-Mist, Larkspur, Sweet Pea, Statis.
Remember that at GrassSeeds.com, all grass seed varieties in our mixtures are trialled and recommended by the Sports Turf Research Institute. We do not sell poor quality or untested grass seed...buy with confidence from licensed seed merchants, registered with the Department for the Environment, Food and Rural Affairs.