Wildflower Meadow Mixture Seeds - Wet Loam
Wildflower Meadow Mixture Seeds - Wet Loam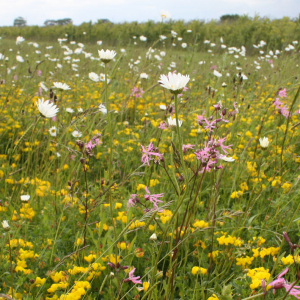 Species contained within this mixture will typically be found in loamy soils that retain moisture, typically low-lying meadows.
- Contains 80% grasses and 20% wildflowers
- Creates a natural looking meadow
- Best suited to wet loam soil types
- Sow at 5g per metre square
Contains; Bird's Foot Trefoil, Black Medick, Meadow Buttercup, White Campion, Wild Clary, Cowslip, Goatsbeard, Greater Knapweed, Common Knapweed, Lady's Bedstraw, Meadow Vetchling, Oxeye Daisy, Field Scabious, Hoary Plantain, Ribwort Plantain, Ragged Robin, Salad Burnet, Selfheal, Common Sorrel, Wild Carrot, Yarrow, Yellow Rattle.
Remember that at GrassSeeds.com, all grass seed varieties in our mixtures are trialled and recommended by the Sports Turf Research Institute. We do not sell poor quality or untested grass seed...buy with confidence from licensed seed merchants, registered with the Department for the Environment, Food and Rural Affairs.