Bees and Butterflies 100% Wildflower Seeds. Annual mixture
Bees and Butterflies 100% Wildflower Seeds. Annual mixture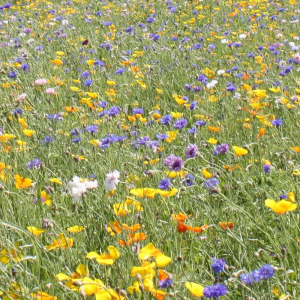 This mixture will produce bright flowers for an attractive meadow, and attract bees and butterflies. Contains all annual species carefully selected to attract wildlife into your garden or meadow.
- Sow from mid March for flowering in the summer
- Flowers from June to September
- Species selected specifically for bees and butterflies
- Contains a mixture of annual wildflowers and cultivated species
- Sow at 3g per metre square
Contains: Borage, Marigold, Cornflower, Vipers Bugloss, Californian Poppy, Corn Marigold, Candytuft, Field Poppy, French Marigold, Zinnia.
Pre-order for delivery end of Feb 2018

Remember that at GrassSeeds.com, all grass seed varieties in our mixtures are trialled and recommended by the Sports Turf Research Institute. We do not sell poor quality or untested grass seed...buy with confidence from licensed seed merchants, registered with the Department for the Environment, Food and Rural Affairs.