Spring Paddock Fertiliser
Spring Paddock Fertiliser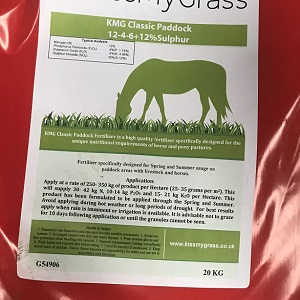 Formulated specifically to be used in the Spring. Contains nitrogen, phosphates and potassium at a ratio of 12.4.6.
- Promotes the specific nutrient requirements for your horse or pony
- Strong growth for grazing or a hay cut if required
- To be applied from March to September
- Supplied in 20kg bags
- Suggested sowing rate of 6-8 bags per acre
Remember that at GrassSeeds.com, all grass seed varieties in our mixtures are trialled and recommended by the Sports Turf Research Institute. We do not sell poor quality or untested grass seed...buy with confidence from licensed seed merchants, registered with the Department for the Environment, Food and Rural Affairs.